Want automotive glass repair that won't steer you wrong? Then let Master Auto Glass Corp. get you back on the road to safety, swiftly and economically. Since 1939, we've been helping Bronx-area motorists secure the glass in their cars and trucks with expert window repair, windshield replacement, and more. We can even repair windows in your semitruck, bus, or RV.
When your vehicle is impaired by a broken window or cracked windshield, getting it fixed fast is not an option; it's a necessity! But that doesn't mean you should compromise your safety by rushing out and settling for the first under-experienced or over-priced auto glass shop you happen to come across. Instead, put both your time and money to far better use by choosing Master Auto Glass Corp. to perform your window repair or windshield replacement jobs, large or small. With more than 70 years of experience in the automotive glass industry, our local, family-owned company would never cut corners or allow substandard workmanship to save time or trim expenses. We achieve high-quality windshield repair and auto glass replacement results the honest, old-fashioned way: by working diligently and efficiently on all of your car glass repairs, using our in-depth knowledge and hands-on skill gained over the course of seven decades as an auto glass shop. Reach us by phone or e-mail today.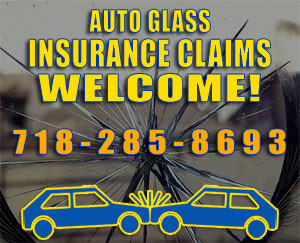 From secure auto glass chip repair for your personal car or truck to top-quality windshield replacement for your commercial rig, you can count on Master Auto Glass Corp. to restore the integrity of all your automotive glass, regardless of your vehicle's make or model. Our huge service bay and convenient location right off the highway make us the perfect pick for window repair and windshield replacement in your semitruck, bus, or recreational vehicle. Or, for your smaller auto or company car, you can save on fuel and eliminate one errand from your daily runaround when you let us make the trip to you. Our handy mobile service makes it easy to bring our auto glass specialists right to your home or workplace for the ultimate convenience in automotive window repair. 
Based in the Bronx, Master Auto Glass Corp. has been working since 1939 to keep area drivers safe on some of the nation's busiest and most populated roadways. Whether you need car window replacement because of a fender bender or truck windshield repair due to a recent chip, we're the auto glass company to call in the Big Apple and beyond. From our easy-to-access site near a major truck route, we frequently serve customers in the boroughs of the Bronx and Manhattan, as well as throughout Westchester County, including the communities of White Plains, Yonkers, Locust Point, Mount Vernon, New Rochelle, and Mamaroneck. In a metropolitan area this large, you have choices when it comes to auto glass repair. So never base your selection on proximity alone. Make the wise choice and opt for the auto glass company that will go the distance for you. Choose Master Auto Glass Corp. for prompt and professional car window repair, backed by more than seven decades of direct experience in the business. 
At Master Auto Glass Corp., we're fully licensed, bonded, and insured for your complete protection. We also stand behind all of our windshield repair and auto glass replacement work with a lifetime warranty against leaks and defective materials. Give us a call or send us an e-mail today to get started on window repair for your car, truck, bus, or RV. We'll be happy to answer any questions you have and provide you with a free, no-obligation estimate on your auto glass replacement or repair.