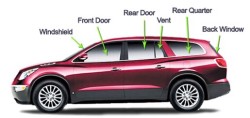 It can happen in the blink of an eye. Just one flying rock, stray golf ball, or other unfortunate incident can leave you with a deep ding or jagged crack in your vehicle's windshield. Not only does damaged auto glass look dreadful—it can actually decrease your visibility and make it difficult to use your wipers. What's worse, left unrepaired day after day, that unsightly chip or crack could eventually spread and all of a sudden require complete windshield replacement. Whether the damage has been done to your family car or your company truck, you can count on Master Auto Glass Corp. to provide you with prompt, professional windshield repairs. Contact us today for help with windshield problems of all kinds, from serious cracks to tiny dents. Even the smallest imperfection could drastically weaken your auto glass, so if you've noticed any damage at all, please don't hesitate to send us an e-mail or give us a call now.

Did you know that, in many cases, the experts at Master Auto Glass Corp. can correct your damaged glass without completely replacing the windshield? It's true, and the whole process can be done in a matter of minutes. We'll examine your vehicle and determine the best way to approach your windshield glass repair needs, developing a customized treatment plan to ensure strong, long-lasting results. Then, using special tools, our car windshield repair technicians will force epoxy resin into the crack or chip. This substance dries clear and completely fills the crevices, restoring your windshield to its original strength—and flawless appearance. The epoxy is so effective that you'll have a hard time remembering which spot needed the windshield crack repair in the first place! Much faster and less expensive, our epoxy resin method is a great alternative to having completely new glass installed. To learn more about how we perform windshield chip repair and crack solutions, contact Master Auto Glass Corp. today.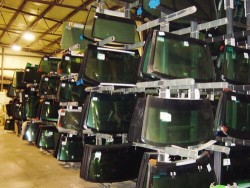 When you're in the market for cracked windshield repair or windshield chip repair, it's best to stay off the roads until the work on your windshield is over and done, lest the damaged area grow. That's why Master Auto Glass Corp. is a completely mobile business that can make the trip to your residence or business to take care of your repair at your convenience. Wherever you live or work in the Big Apple, from the Bronx to Westchester County, contact us at your earliest opportunity to arrange for expert auto windshield repair service at a low, affordable rate.
Aside from the peace of mind you derive from a reliable vehicle, you have plenty of other reasons to seek prompt windshield repairs, including:
Safety—A tiny crack or chip may seem harmless enough, but even the most minimal windshield damages can be dangerous. A weakened piece of glass could increase the likelihood of a serious cave-in in the event of a crash. Cracks also increase the likelihood of being hurt by flying glass in an accident.
Passed Inspections—New York has laws regarding cracked and chipped windshields. If you have a serious crack, especially one within the area covered by your windshield wipers, you should seek windshield crack repair immediately. Doing this will make it much more likely that your car will pass inspection.
Citation Prevention—A damaged windshield may lead a law enforcement officer to issue you a ticket for operating an unsafe vehicle. Avoid this hassle by having your chipped or cracked windshield repaired. 
In addition to all of these considerations, it's important to remember that most insurance companies will not only cover the cost of your windshield glass repair in full, but they'll also waive the deductible. Plus, Master Auto Glass Corp. will handle all of the tedious paperwork for you and work directly with your insurance company on behalf of your claims. 
So if your windshield is showing any serious divots or cracks, don't hesitate to attend to the problem before it worsens or causes you undue harm or expense. At Master Auto Glass Corp., we provide free estimates on cracked and chipped windshield repairs, and we make the process easy as can be with mobile service to your home or office as well as assistance with insurance claims. Give us a call or shoot us an e-mail to get started now.