As automobile design has undergone numerous developments over the years, the amount of area devoted to windshields and windows has continued to expand. As a result, in the majority of cars today, as much as 15 to 20 percent of a vehicle's exterior is made up entirely of glass. While larger, more stylish windows may do wonders for a car's appearance, they also increase your odds of needing auto glass chip repair or car window replacement. So, whether you drive an older model Ford or a spanking new Lexus, when that day comes due to a wayward baseball, a falling tree branch, or some other unfortunate event, it's nice to know Master Auto Glass Corp. is here in the Bronx to help. With car window repair technicians who are well versed in just about every make and model of vehicle on the road, we can provide you with flawless repairs no matter what the extent or condition of your window's damage. Reach us by phone or e-mail today to schedule your auto glass repair.
Even if the nick to your automotive glass seems slight, it's important to have it checked by a qualified technician as soon as possible. At Master Auto Glass Corp., we can examine your car window defect in detail and help you prevent minor problems from resulting in further damage, including:
Complete Replacement—By failing to seek professional auto glass repair, you could actually allow the original chip or crack in your car window to develop into a much more serious issue, as things like minor road bumps and temperature swings can cause the damage to expand. That means when you finally do call in an expert for auto glass chip repair or crack solutions, your automobile window repair bill could be far higher than it would have been if you had acted at the time of the incident. It could even leave you looking at a total windshield or car window replacement instead of a repair.
Compromised Safety—Flawed glass presents a variety of dangers, such as greater risk of shattering and decreased visibility on the road. Weakened auto glass could also increase your chances of being harmed in the event of an accident. Play it safe, and opt for professional auto glass repair if you notice any kind of flaw in your car windows or windshield.
Inconvenience—A significant crack or other major flaw in your automotive glass could prevent you from raising or lowering your car's front or back windows. Seeking prompt auto glass crack repair will allow you to enjoy all of your vehicle's features, safely and securely.
Failed Inspections—Depending on the size or location of your auto glass's damage, you may not be able to pass standard vehicle safety inspections. Police officers may even choose to ticket you for driving an unsafe vehicle. 
With Master Auto Glass Corp. on your side, you'll never have to worry about tiny chips in your car windshield turning into major cracks. Our window repair technicians have been in the trade for more than 70 years, and we know exactly what it takes to provide you with impeccable workmanship and a truly swift turnaround time. When the ding is small enough, we'll repair your car window, and prevent the damage from spreading, by applying a clear solution to fix and seal off the chip. Or, if the crack is beyond the size for effective repair, we'll recommend complete auto glass replacement and provide you with an upfront price estimate before we go ahead and change out the glass. We'll even dispose of any old, discarded glass after our work is done.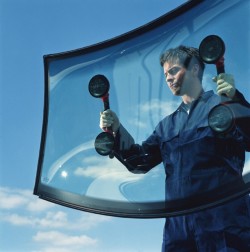 To make your life even easier, Master Auto Glass Corp. can bring our experienced technicians to you and perform any necessary car window repairs right at your home or office. Thanks to our convenient mobile auto glass service, you won't have to stress about finding a coworker or family member to hitch a ride with while your vehicle is sitting idle in some remote auto glass repair shop. As part of our continuing efforts to provide you with the shortest turnaround times in town, we'll finish our automobile window repair right at your site and be out of your way in no time! 
So when you need immediate assistance for your chipped windshield or damaged car windows, don't hesitate to contact the pros at Master Auto Glass Corp. for automotive glass repair that's prompt and professional. Immediate repairs could even prevent you from incurring the cost of a total car window replacement, so don't wait to call. We're licensed, bonded, and insured for your complete satisfaction. Give us a call or send us an e-mail today to get your free estimate on auto glass repair. 
Master Auto Glass Corp. does not currently perform window repair on Ferraris, Lamborghinis, or sunroofs. We also do not repair glass on boats or motorcycles. We regret any inconvenience this may cause.